Hi! I'm very happy to publish the first Botcrypto Monthly Report in English. New referral program, trading contests coming soon, summer is hot at Botcrypto!
---
Development
We are very pleased to launch our referral program that allows you to combine business with pleasure by inviting your friends to Botcrypto. How does it work? By sharing your referral link, you can earn money every time one of your godsons subscribes. We're holding a referral contest with €50 worth of Bitcoin! Interested? Everything is in the link below. Finally, in the next few days, we'll be making some visuals available to make it easier for you.
The 2nd big breakthrough of the month is the trading contests coming up! We think trading contests are a great way to discover trading bots. Everyone will be able to participate with a virtual portfolio, and therefore without any risk. It's a great opportunity to put your most ambitious strategy ideas into practice, and put them into the arena with other traders. The contests are currently in the internal testing phase, and there are several of us on the team fighting for first place 🏆. We hope to organize the 1st public contest during the month of August. And to make you wait, here is a 1st screenshot of the interface.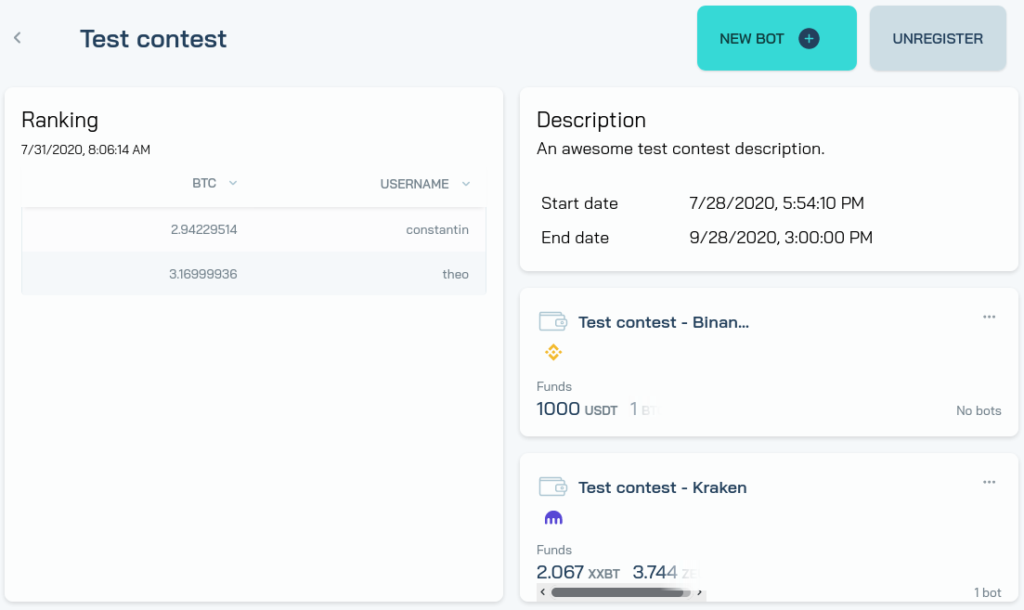 ---
Other news
Among other news, we have published an assignment offer for a freelance Python developer. We are considering many applications, but we are always open to new profiles. If you are interested, or if you know someone who is interested, please feel free to forward the offer in the article below.
---
Between all these novelties and the charts that have come back to life in the last few weeks (especially in the decentralized finance), the sun is shining for trading bots… So, what are you waiting for to create your crypto trading bot on Botcrypto? 😉
With Botcrypto, save time and optimize your trading by creating your own cryptocurrency trading bots. No technical knowledge is required thanks to our 100% visual editor. Try for free!
Nothing on the blog constitutes investment, legal, tax or other advice, nor should it inspire any investment or decision. Past performance is no guarantee of future performance.