Compete against the best traders in the bitcoins and cryptocurrencies Trading Contest #1 on Botcrypto! 200 USDT for the winners.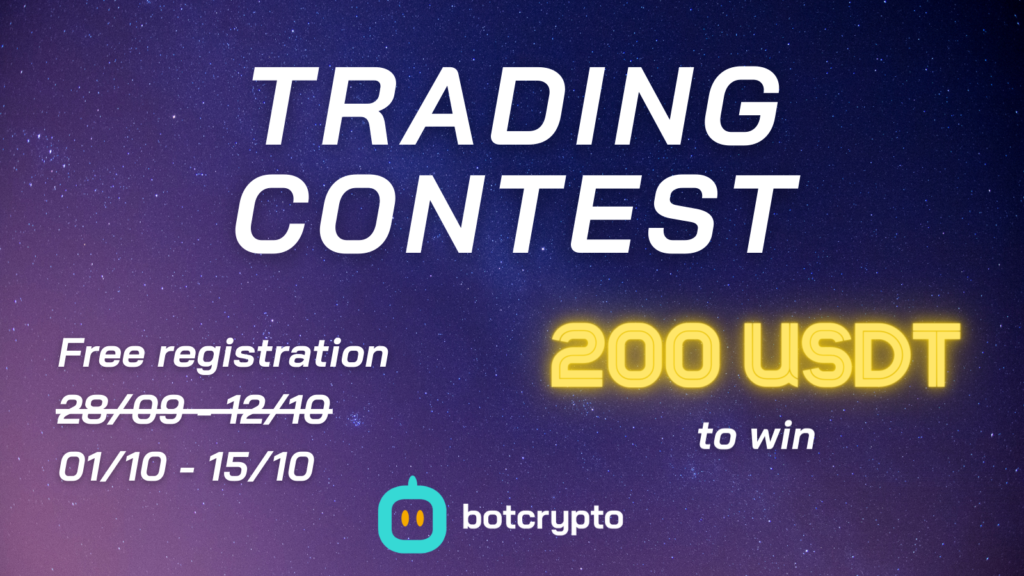 We are very happy to organize trading contests again after the success of the Trading Challenge that took place in… October 2018. 720 strategies and 856 bots had been created [FR]! Feedbacks were very positive and many members were inventive in their trading.
Rules
The objective of this trading contest is simple: you have two weeks to make the biggest profit from two virtual portfolios of 1 bitcoin (1 BTC) each. There are one virtual portfolio for Kraken, and one for Binance. You can use one or more trading bots, and even manual orders.
All cryptocurrencies pairs available on Botcrypto are allowed.
All cryptocurrencies exchanges available on Botcrypto are allowed.
All strategies are allowed.
Trading bots are allowed.
Manual orders are allowed.
The start date has been postponed by 3 days!
Start date : 28/09/2020 01/10/2020 12:00 CET
End date : 12/10/2020 15/10/2020 12:00 CET
Additional rules can be found on our Helpdesk. Botcrypto reserves the right to change the rules and exclude participants at any time.
Prizes
To reward the best traders, we are offering 200 USDT which will be distributed among the winners.
1st place 100 USDT (= ~85€)
2nd place 60 USDT (= ~50€)
3rd place 40 USDT (= ~35€)
Do you think you're up to it? Then take advantage of the next few days to practice creating trading bots with Botcrypto, and enter the competition now!