After almost 2 weeks of trading, Trading Contest #1 is over. It's time to reveal the winners… Let's see the results!
The winners
Congratulations to bob' who takes first place in the ranking! He managed to make his 2 BTCs grow in 2.149 BTCs in 2 weeks, which corresponds to a 7% gain. As we said in the Trading Contest #1 launch post, he wins 100 USDT.
Congratulations also to the two following Unikname users with 4.75% and 3.5% gain. They won 60 USDT and 40 USDT. I take this opportunity to send a message to the two Unikname users, contact us so that we can give you your prizes.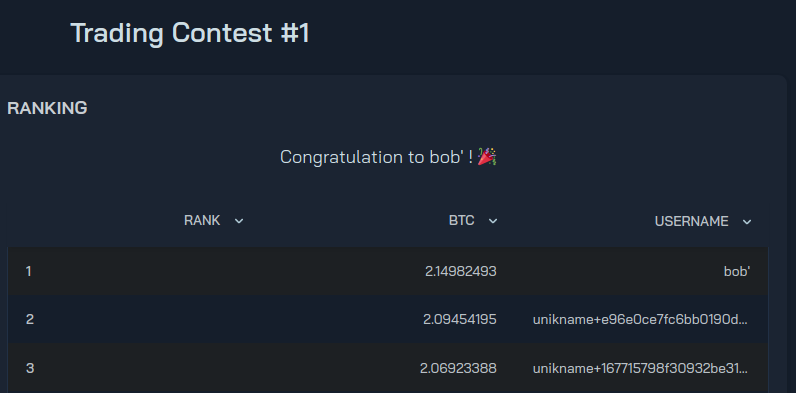 bob's interview
Want to know how bob' won the Trading Contest #1? So do we! Here's his answer translated in English.
I am more of an observer, and having realised on the market cap that the FYI was very very volatile, I tried to make my balance grow with this currency, trying to place manual orders. I thought it was fun to compete against the bots, using only manual orders.

bob'
For trading bots enthusiasts, one could take it badly… But on the contrary! The important thing in trading is to find your method, the one you master, the one that works for you. Botcrypto is above all a tool at your service. We propose a unique solution to create easily trading bots, but also to send manual order in multiple exchanges, with educational ressources, etc. It's up to you to make the most of it, just like bob' did 😉
Next editions
We are very satisfied with this Trading Contest #1! Nearly 70 participants tried their luck, 50% more than in the previous one.
Of course, we are going to plan other competitions, but in different forms. The rules may be modified to bring out other types of strategies. We are also studying the possibility of organising private trading contests and/or sponsored by existing communities in the crypto world. If you are interested, contact us !
With Botcrypto, save time and optimize your trading by creating your own cryptocurrency trading bots. No technical knowledge is required thanks to our 100% visual editor. Try for free!
Nothing on the blog constitutes investment, legal, tax or other advice, nor should it inspire any investment or decision. Past performance is no guarantee of future performance.