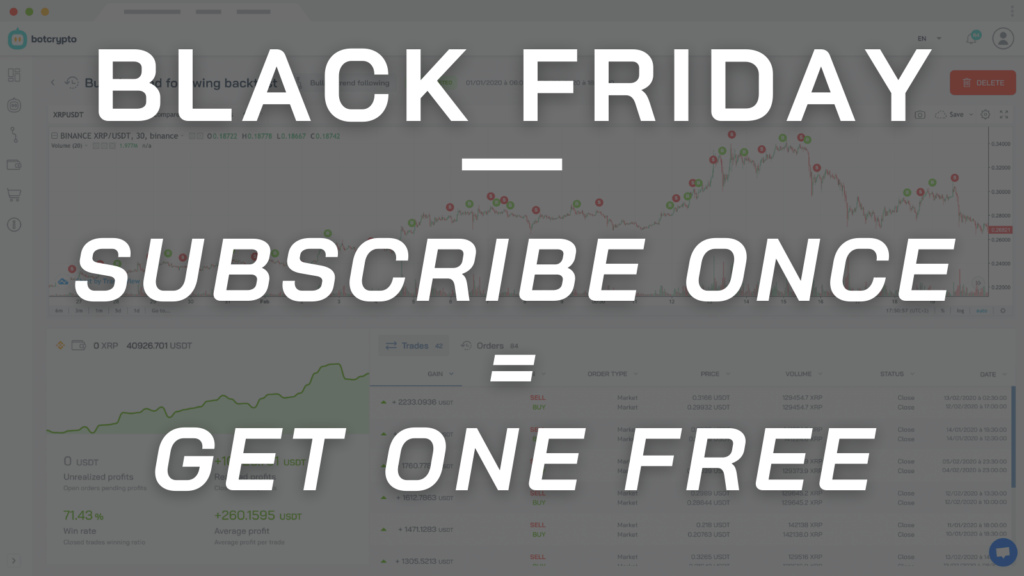 For Black Friday 2020, we are very happy to offer you an offer never seen before on Botcrypto!
For this occasion, all subscriptions are simply doubled! This means that if you buy 6 months of Silver subscription, you will receive 6 months of additional Silver subscription! You will be able to enjoy all the advantages of trading bots on Botcrypto 2x longer! 😉
Terms
All subscriptions taken between November 27th at 2:00 pm (Paris time) and November 29th at 11:59 pm (Paris time) will be eligible. Subscribers will receive a gift code corresponding to the doubling of the subscription within 7 days after the end of the operation, within the limit of one year of subscription.
Update: The Black Friday offer is also valid during French Black Friday, i.e. for all subscriptions taken on Friday, December 4, 2020 (Paris time).
With Botcrypto, save time and optimize your trading by creating your own cryptocurrency trading bots. No technical knowledge is required thanks to our 100% visual editor. Try for free!
Nothing on the blog constitutes investment, legal, tax or other advice, nor should it inspire any investment or decision. Past performance is no guarantee of future performance.