We just finished one of the most important months in Bitcoin's history, at least in the history of its prices, with the highest monthly close price ever! It's even more motivating to develop trading bots in these conditions, so here is the very large list of news from the last few weeks.
---
Development
Here is the list of the main new features of the last few weeks on Botcrypto, the platform to create easily and quickly cryptocurrency trading bots.
The Botcrypto rating reveals the best strategies of the strategy store at a glance. Full details on its calculation are available here.
The automatic classification of market trends over the week makes it easy to find the most bullish/bearish market. We have written an article on how this classification works (only in French at the moment).
The addition of advanced parameters for strategy indicators, such as the Multiplier that allows to make conditions like "When the price is above the EMA +3%". The Buy EMA9 rebounce strategy is a good example.
From now on, you no longer need to create an account or be logged in to view the store's strategies (click on the link above to see!). This makes it much easier to share strategies publicly.
Follow the evolution of the strategy in real time with the display of the current state of the bots.

The suggested backtest periods are now much smarter and correspond to the TU of your strategy. The TUs of the strategies are also displayed directly on the strategy card. No more need to call your strategies Buy EMA 4H 😉
We plan to continue at this pace in the coming months, so don't hesitate to suggest improvements on our Discord server where we are already close to 500 traders! You can also vote for the next features directly on the dedicated page.
The LOCKDOWN Contest
The LOCKDOWN Contest, the free and educational contest that we have set up has been extended for 15 days. You can thus continue to use this space to learn and improve your trading skills. Feel free to share your successes, failures and questions on our Discord server (again!), which also displays daily contest rankings.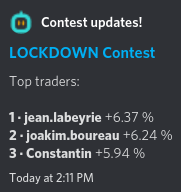 The Shark Week
We had the pleasure of hosting the Shark Week, the trading competition organized by the Transaction and Plug'n'play associations of the emlyon school. More than 300 students discovered bitcoin and crypto trading during one week thanks to Botcrypto's virtual trading features. The results were quite good, as more than 20% had positive results. Congratulations!
In this context, we also spoke at a webinar entitled "Les cryptomonnaies : quels enjeux ?" where we discussed many topics related to cryptocurrencies: news, advantages and disadvantages, regulation… It is available in replay here.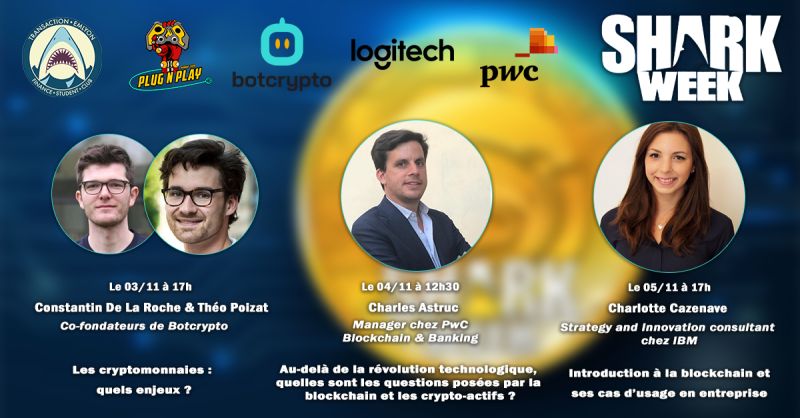 ---
With an ATH that has been hit several times recently and high volatility, cryptos trading bots are particularly interesting at the moment. So, what are you waiting for to (re)launch yours on Botcrypto? 😉